Moody's Brass Wall Plaque…

This was one of our more challenging projects…Our customer wanted to remove their 12 ft x 12 ft solid brass cast plaque from the old corporate headquarters and relocate it to the 21st floor lobbyof their new building, but it was too large to fit through the glass window opening. Our firm was contracted to reproduce the plaque and install in the new lobby. First, we prepared high resolution detailed images of the old plaque, then created a 3D clay replica which was used to cast the final piece in solid brass. We added the final touches by aging with a Patina finish. The finished plaque was installed in the new corporate lobby prior to grand opening.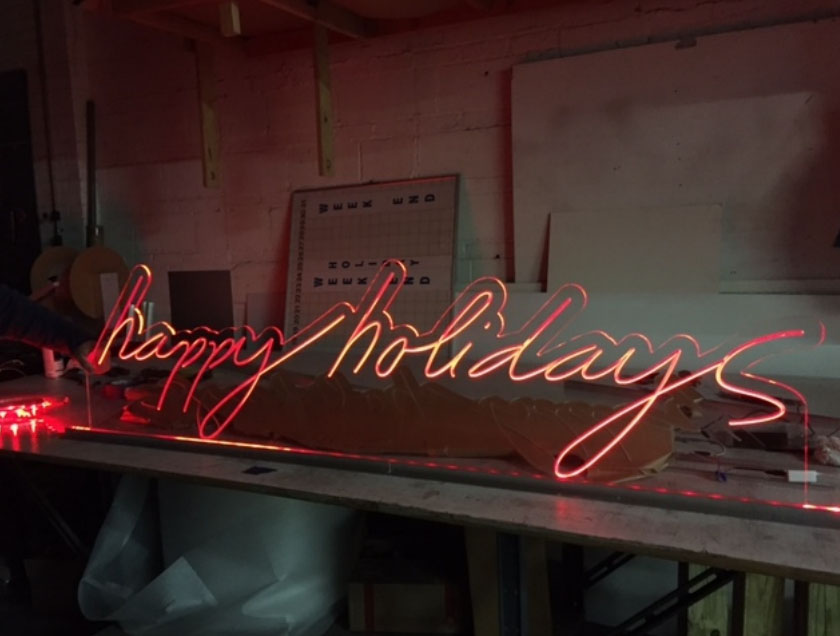 Edge lit signs that simulate neon but without the glass tubing and wiring….Edgelit signs are made by projecting light into a clear acrylic panel that is etched causing the light to reflect on the etching and to project forward. This etching is routed on the reverse side. The panel is usually made of glass or clear acrylic. Common material thicknesses are 1/8″, 3/16″, 1/4″, 3/8″, and 1/2″ and are illuminated through concealed LED's that shine up through the clear material.  Our signs can illuminate in one solid color or multi-color programmed with a time delay.